It's no secret that finding space to construct the new pipeline infrastructure needed to meet today's growing energy demand is becoming increasingly difficult. That's why existing high-voltage overhead power line corridors are attractive options for shared right of way. Pipelines buried near power lines are subject to electromagnetic-induced AC current, causing potential shock hazards for the public or personnel and raising the risk of AC corrosion.
Corrosion Service specializes in identifying and addressing AC interference on pipelines. In conjunction with the most advanced modeling software, we can provide industry-leading stray current AC mitigation system designs. These improve safety and reduce the potential of corrosion, mitigate safety risks, and eliminate harmful AC interference.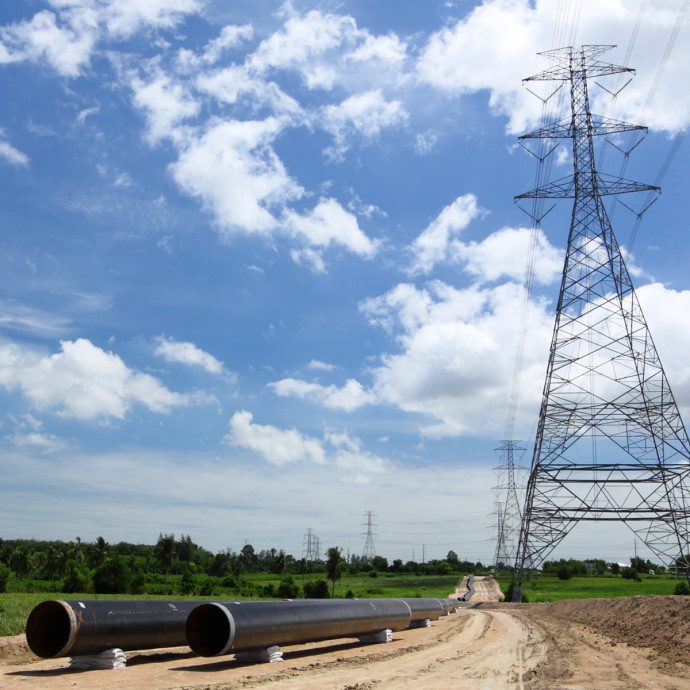 An AC Mitigation Team You Can Depend On
All pipeline systems subject to AC interference are different, regardless of whether the project is a new build, rehabilitation, or routine maintenance. Our talented team approaches each job in a unique, calculated, and proactive manner. Corrosion Service strives to provide the extremely high level of support and partnership to provide the customized solutions that our clients require on a daily basis.
Our offices can be found across North America, serving as points of contact for all your AC interference mitigation needs. Each is manned by dedicated, experienced professionals who can lend their engineering expertise, project management support, and dedicated field services. Our team works closely with our Toronto engineering hub to ensure optimal results and satisfaction with every job. In addition, our team is trained and certified by the Association for Materials Protection and Performance (AMPP),  SES & Technologies and Elsyca modeling software platforms.
Our Electrical Interference Mitigation Services include:
Expert Computer Modeling Services
AC & DC Mitigation Design and Installation
AC Interference Testing
System Audits and Maintenance
Annual Compliance Surveys
Remote Monitoring
To learn more please download our literature.
AC Interference Causes Our Team Can Address
There are three basic mechanisms of AC interference that can cause damage to a pipeline and hazards to pipeline personnel and the public. These include the following:
Inductive Coupling
Inductive coupling occurs under both normal operation and fault conditions of the collocating power line. The magnitude of the induced voltages depends on many factors including the power line phase current, on the length of parallelism, and on the distance between the pipeline and powerline.
Resistive or Conductive Coupling
The second type of type of electrical interference on pipelines, defined as resistive or conductive coupling, appears under powerline fault conditions. The fault current flowing through the grounding of the high voltage structure produces a potential rise in the neighbouring soil. Part of this current may be transferred to the pipe and would be added to the AC-induced voltage. 
Capacitive Coupling
The third mechanism of AC interference, defined as capacitive coupling, is only a concern during construction when the pipe is elevated on skids and not in contact with the ground.
From Design to Installation, We've Got You Covered
System optimization is critical for AC interference designs to ensure the proper system components are selected, sized, and strategically located to provide efficient current discharge for the pipeline asset to be mitigated. Our long history of design and complete understanding of AC interference, having designed numerous mitigation systems over the years for various structures in North America and around the world, instils client confidence and satisfaction.
Our Design teams consist of trained and certified professionals with all the skills and expertise required to complete the job safely and efficiently. Our Engineering, Drafting, and Installation services and as well support staff follow defined workflows that allow full exposure to internal and external auditors. This enables for an optimal client experience before, during, and after installation, and for many years to come.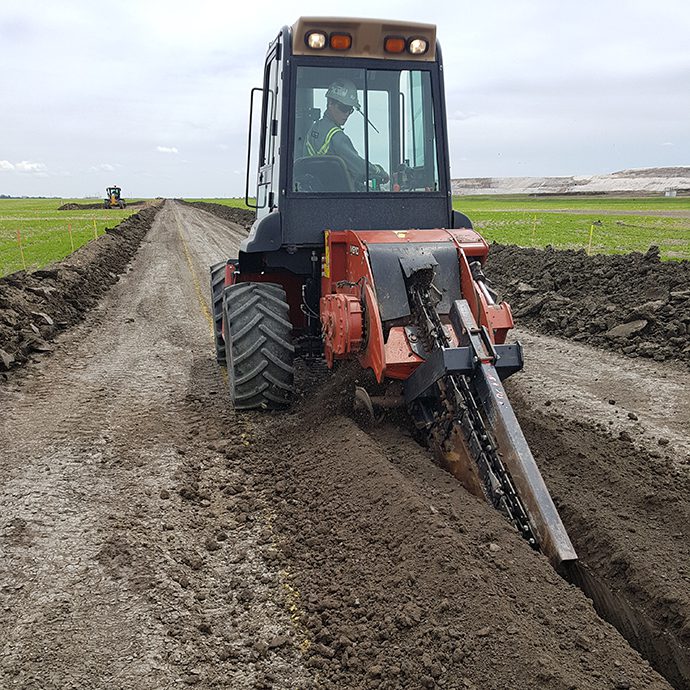 Need AC Mitigation for Pipelines? Get in Touch with Us Today.
Whether you have technical questions or concerns, need advice on which AC mitigation services are best for your needs or otherwise, we're here to help here at Corrosion Service. We have dedicated crews that are trained in the installation of AC mitigation systems. Projects range from installing a single sacrificial anode to AC mitigation wells, setting up miles of AC mitigation bare copper wire or zinc ribbon as per the design requirements, and more. In addition, to ensure the work in is completed on budget and on time, we own a fleet of construction equipment vehicles and have partnered with specialised prequalified contractors that have the required skills to assist us in completing the job.