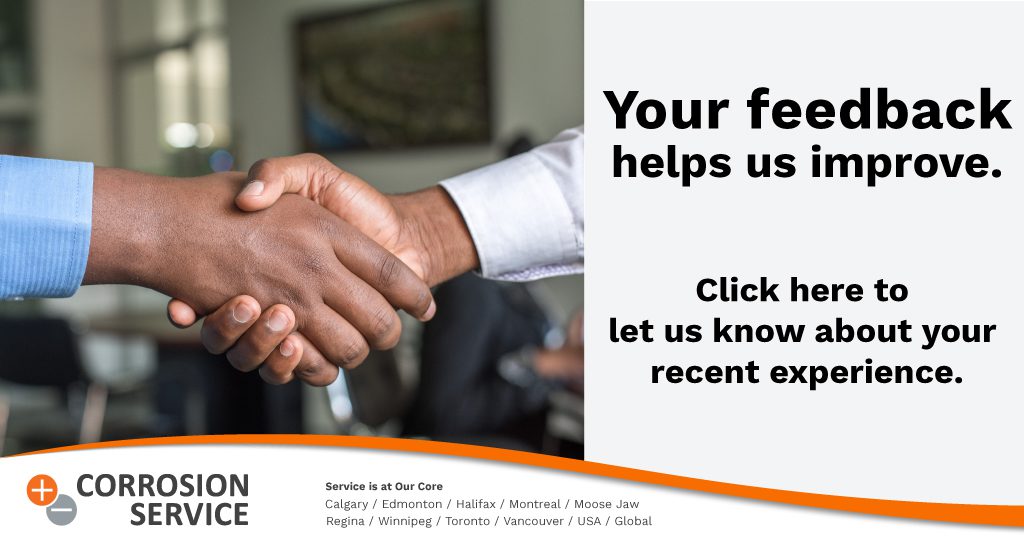 What People are Saying About Corrosion Service
"Thank you for going the extra mile and ensuring these items were properly addressed. You have been providing excellent customer service this year, and frankly I'm impressed"
Corrosion/Integrity Advisor.
"The technician done the nicest Cadwelds and installation I have seen!"
Electrical Inspector.
"Thanks for executing the work during uneasy times in the work industry. Good work!  And Good results!"
Sr. Construction Specialist.
"I notice consistently that our students really like working for Corrosion Service. Your staff are always commented on very highly in onsite meetings and in student's comments on their final evaluations. Thank you to your team for being such exemplary leaders/mentors/supervisors!"
Coordinator – Engineering Co-op & Employment Center.
"Really appreciate the team's effort from Corrosion Service and LSC to complete the work in coordination and mobilize to site in short notice. Not an easy time to travel and respond quickly to request."
Sr. Engineer.
"I am very impressed with your timely and high-quality submission of all the site documentation immediately after site completion including quality documents, red-line markups, etc. "
Facility Construction Manager