Potential Adjustment Protection (PAP®)
Corrosion Control for Flue Gas

Desulfurization Scrubbers
When your FGD scrubber lining fails... How and when will you know the extent of damage? Will you be protected from metal loss?
Flue Gas Desulfurization (FGD) systems are a critical component for any coal-fired electric generating unit that needs to meet regulatory emissions requirements. But due to the corrosive nature of the product that is processed, corrosion can compromise structural integrity. Based on prior experience in the Pulp and Paper industry, Corrosion Service provides corrosion control solutions to coal-fired electric generating facilities throughout North America.
PAP® (Potential Adjustment Protection®) is a proven technology developed in conjunction with the Pulp and Paper Research Institute of Canada in the early 1980's. PAP® (Potential Adjustment Protection®) is particularly suitable for preventing corrosion of austenitic, super-austenitic and duplex stainless steels in high chloride environments and extremely cost effective when compared to linings, alloy replacement and brick linings. Protection is accomplished by applying an electrical current through anodes installed inside the vessel to the structure then moving the potential of the metal into the passive region, thus preventing any further corrosion.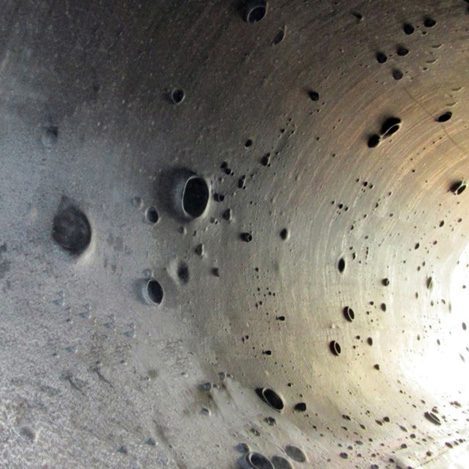 Our team and the services that we offer
All FGD systems are different, and whether the project is new build, rehabilitation or routine maintenance, our talented team of industry professionals is empowered to understand the unique characteristics of every enquiry. This is important because as an organization, Corrosion Service strives to provide the extremely high level of support and partnership to provide the customized solutions that our clients require on a daily basis.
Our Process Engineering Group (PEG) is strategically located in Toronto, Canada and is the primary line of contact for FGD system clients. PEG is designed to provide front line engineering expertise, project management support and field services in collaboration with our Toronto engineering hub that provides high level engineering and design services. Team members are highly trained, with all engineering staff certified at various levels by the National Association of Corrosion Engineers International.
Our materials supply team has access to provide a full-range of PAP® (Potential Adjustment Protection®) materials both manufactured in-house and sourced from partner suppliers. Our dedicated supply chain team is based in Toronto alongside our material distribution hub, which is capable of delivering materials throughout the world on short notice.
Since our founding in 1950, we have built an extensive portfolio of specialist products for the corrosion prevention industry, both manufactured in-house and sourced from external partners.