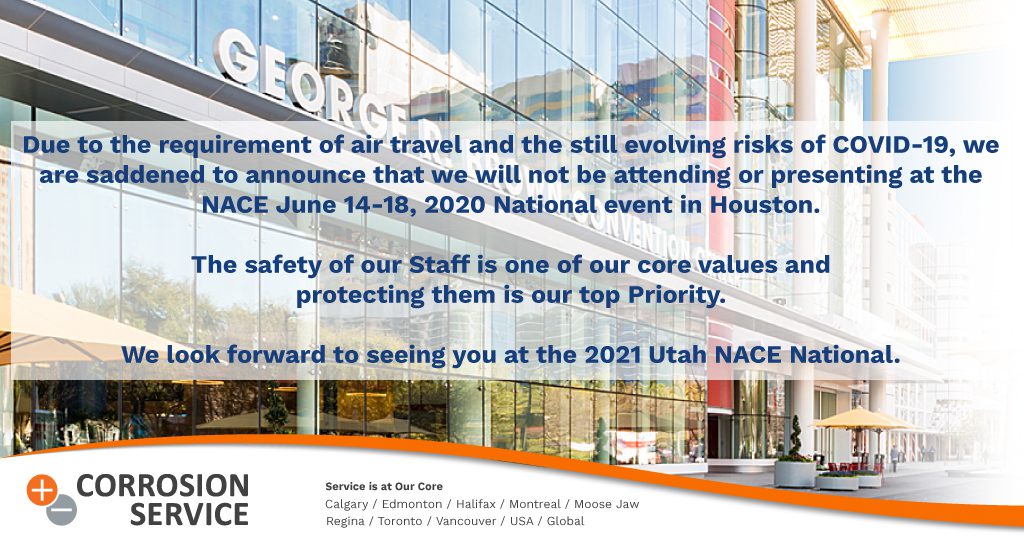 April 1, 2020
Corrosion Service Company Ltd. Releases COVID-19 Response Plan
This notice is to inform you that Corrosion Service Company Limited (CSCL) is taking all necessary steps to protect our employees, the communities in which we operate and our customers, vendors and partners and their employees, in response to the unprecedented challenges associated with the coronavirus (COVID-19).
Since being deemed an essential service for the municipal water, energy and rail industries we have continued our operations to safely serve our customers and keep the economy moving, as CSCL began deploying our Pandemic measures on March 3, 2020.
Safety is a core value at CSCL and we are monitoring the evolution of the situation closely. We are aligned with and take direction from the Provincial, State and Federal authorities as required in Canada and the USA.
Accordingly, CSCL has adopted the following policies and practices:
•The majority of office workers are working from home to reduce the probability of spreading the virus to other co-workers.
•We are also restricting employees travel, increasing social distancing, offering work from home to other employees not required on site and amplifying cleaning regimens in our offices and at work locations.
•We have instructed all employees returning from travel from another country to self-isolate and monitor their symptoms for 14 days.
•We have instructed all employees to self-isolate if they have signs or symptoms of COVID-19 or have someone in their household who has tested positive or is being tested for COVID-19. In any of the above situation, a CSCL employee cannot return to work until cleared by CSCL Occupational Health Services.
•Employees are kept informed regularly on measures taken.
•Any area that may be contaminated will be evacuated, disinfected and any other employee who may have been infected will be required to self-isolate.
•Employees accessing the premises of suppliers or customers can, upon request, provide a CSCL-issued personal Health Certificate form.