Since our founding Corrosion Service has and remains a leader in the corrosion control industry, supporting the various industries in North America and around the World ensuring asset integrity by providing responsible engineering services.
As part of our continued commitment, we would like to welcome you to our electronic Library as the place to view our various technical papers written and presented since 1950 supporting, educating and advancing the corrosion industry advancement.
On your left you can select the author of interest to view all papers presented or enter a search by topic. For each, an abstract is provided and a download link for your review. We would be please to assist if you have any questions and feel free to contact us.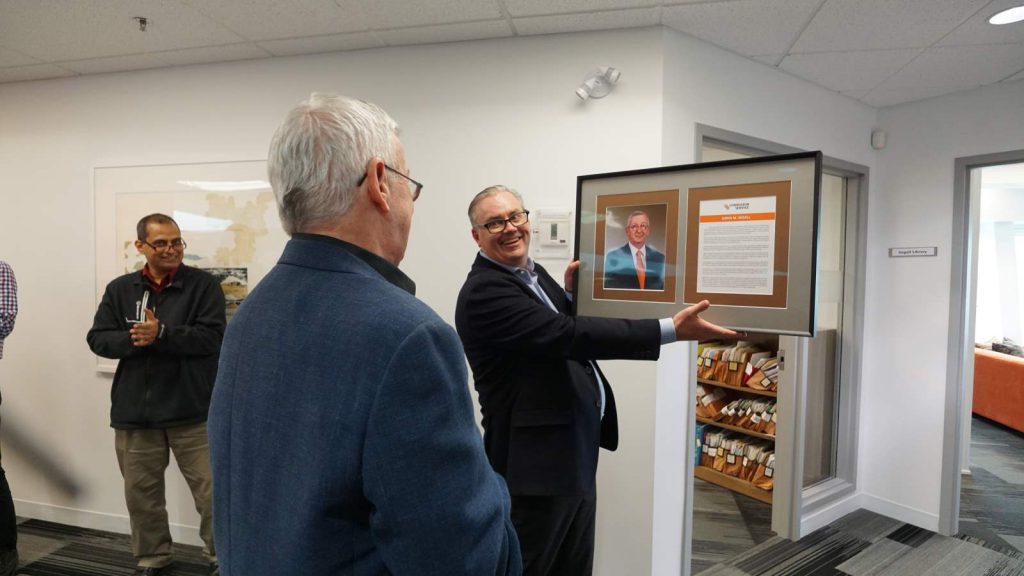 The Corrosion Service Library
We converted a prime corner office into a Library at our Head Office and dedicated the room to Sorin Segall because of his commitment to Corrosion Service, the numerous papers presented, the engineering mentoring within Corrosion Service and to our industry. We would be pleased for you to come and view this comprehensive library that includes various text books, relevant publications, all NACE Materials Performance magazines presented since first publication, technical bulletins and various other related corrosion related print material.
Our Technical Papers For Download
Published : March 9, 2022
The long-term service life outcomes were compared for similar natural gas storage wells operated with either no cathodic protection or partial cathodic protection. Cathodic protection for storage wells is not mandated by regulation and industry practice varies so the outcomes for more than 350 wells […]
Read the complete abstract
Published : March 9, 2022
An AC interference study was conducted in 2019 following a utility development project that included constructing a new substation and upgrading approximately 24 km of new AC transmission powerline sections in Alberta, Canada. The study comprised six transmission powerlines owned by one utility and eight […]
Read the complete abstract
Published : April 21, 2021
Pipeline operators are becoming more dependent on coupons for demonstrating adequate cathodic protection as the use of multi-line corridors has increased. In such complex right-of-way configurations, the pipelines are often bonded together for cathodic protection purposes. The presence of widely varying coating qualities and current […]
Read the complete abstract
Published : April 20, 2021
The new NACE Standard SP21424-2018 provides a set of simple criteria for assessing the risk of AC corrosion on existing collocations between powerlines and cathodically protected pipelines. However, the task of developing design criteria for new collocations is left to the pipeline operators. This paper […]
Read the complete abstract
Published : March 28, 2019
Trenchless technologies are increasingly used to install pipelines at crossings with environmentally sensitive features, highways, etc. For deep crossings installed in rock via horizontal directional drilling (HDD), there has been concern within the pipeline industry about the effectiveness of conventional monitoring and cathodic protection techniques. […]
Read the complete abstract
Published : March 26, 2019
A field study was conducted by Corrosion Service and TransCanada Pipelines to determine the influence of the AC current density and of the coating holiday size on the rate of AC corrosion. This field study involved burying steel coupons of three different sizes (i.e., 1 […]
Read the complete abstract
Published : February 7, 2019
Techniques for telluric compensation of close-interval potential survey (CIPS) data have been known and used in the pipeline industry for many years. However, in recent years, operators have begun to question the effectiveness of surveys performed during periods of significant telluric activity and, in some […]
Read the complete abstract
Published : February 7, 2019
Pipeline integrity is embracing the technologies that have been produced by the Big Data revolution. Database access, machine learning algorithms, and analytics tools are no longer the domain of researchers and IT experts, and can be easily deployed to improve our use of pipeline integrity […]
Read the complete abstract