Electrical Interference

Pipeline AC Mitigation & Stray Current DC Interference
Contact Us
Electrical Interference Mitigation - Working to ensure the safety of pipeline infrastructure in shared corridors
AC Mitigation – It is no secret that finding space to construct the new pipeline infrastructure needed to meet today's growing energy demand is becoming increasingly difficult. That is why existing High Voltage Overhead Power Line corridors are attractive options for shared right of ways. Pipelines buried in close proximity to power lines are subject to electromagnetic induced AC current causing potential shock hazards for the public or personnel and raising the risk of AC corrosion, resulting in the need for AC mitigation.
Stray Current DC Interference – For DC power lines the pipelines may be subjected to unwanted stray current DC interference requiring detailed site testing and monitoring and mitigation.
Corrosion Service specializes in understanding electrical interference on pipelines, and in conjunction with the most advanced modeling software, is capable of providing industry leading stray current DC interference or AC mitigation system designs that improve safety and reduce the risk of AC Corrosion, mitigate safety risks and eliminate harmful interference.
Protecting your assets for years to come.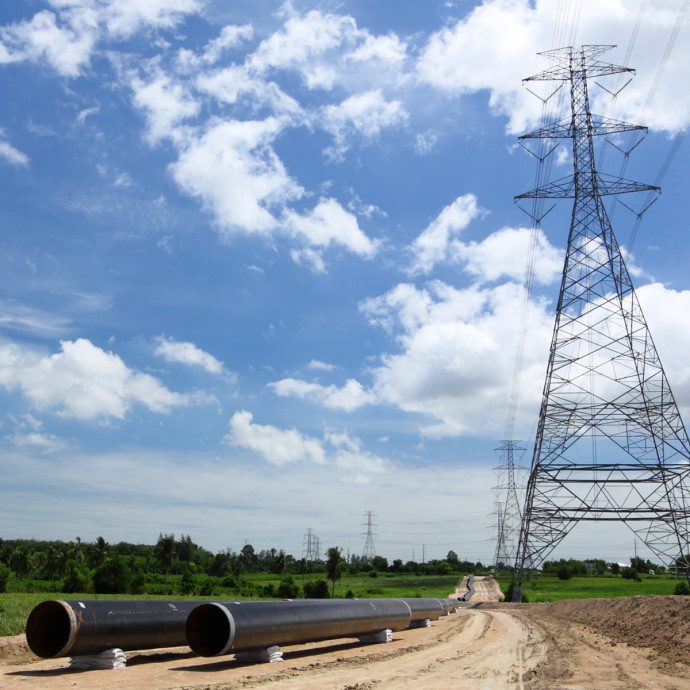 Our team and the services that we offer
All pipeline systems subject to electrical interference are different, and whether the project is new build, rehabilitation or routine maintenance, our talented team of industry professionals is empowered to understand the unique characteristics of every enquiry. This is important because as an organization, Corrosion Service strives to provide the extremely high level of support and partnership to provide the customized solutions that our clients require on a daily basis.
Branch offices are strategically located throughout North America and are the primary line of contact for electrical interference mitigation clients. Each branch office is designed to provide front line engineering expertise, project management support and field services in collaboration with our Toronto engineering hub that provides high level engineering and design services. Team members are highly trained, with all engineering staff certified at various levels by the National Association of Corrosion Engineers International.
Our Electrical Interference Mitigation Services include:
Full Service AC Mitigation & Stray Current DC Interference Mitigation
Expert Computer Modeling Services
AC & DC Mitigation Design
Deep & Shallow Ground Well Installation
Horizontal Mitigation Wire Installation
Turn-Key Installations
AC and DC Interference Testing
System Audits
System Maintenance
Annual Compliance Surveys
Remote Monitoring
To learn more please download our literature.
Service Profile - Design Services
System optimization is critical for AC Mitigation and stray current DC interference designs to ensure the proper system components are selected, sized and strategically located to provide efficient current discharge for the pipeline asset to be mitigated.
Our long history of design and complete understanding of the AC interference and stray current DC interference, having designed numerous mitigation systems over the years for various structures in North America and around the world give our present and future clients the confidence in Corrosion Service. 
Our Design teams consist of NACE trained and certified professionals having all the skills to complete the job. Our Engineering and Drafting services and as well support staff follow defined work flows that allow full exposure to internal and external auditors confirming system excellence prior to installation.
Having established and documented work flows for the entire design process ensures our process is transparent and instills confidence that the designed system will exceed the clients expectation once installed for many years to come.
Service Profile - Installation Services
We have dedicated crews that are trained in the installation of stray current DC interference and AC mitigation systems. Projects range from installing a single sacrificial anode, AC mitigation wells, kilometers/miles of AC mitigation bare copper wire or zinc ribbon as per the design requirements.
To ensure the work in is completed on budget and on time we own a fleet of construction equipment and have partnered with specialised prequalified contractors that have the required skills to assist us in completing the job.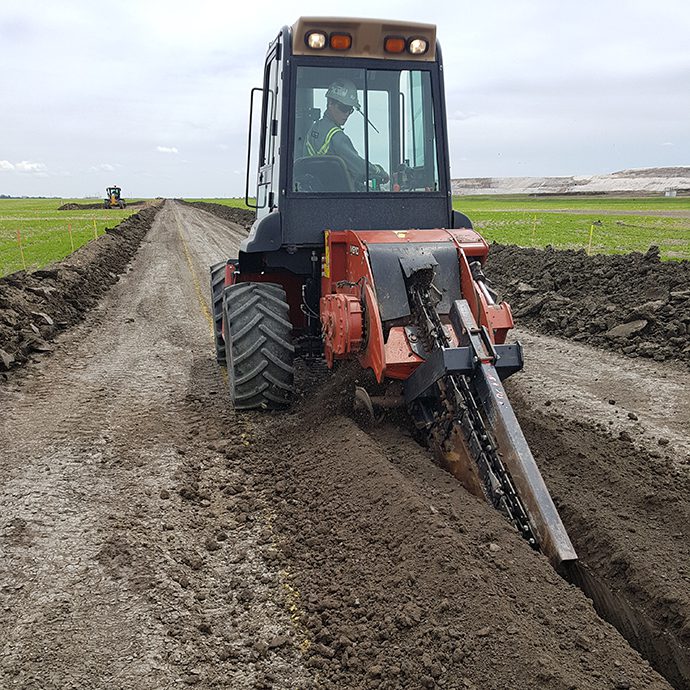 Service Profile - System Commissioning and Annual Maintenance Survey
Efficiency and effectiveness of an AC mitigation system design and installation is a thoroughly evaluated when the system components are commissioned and the commissioning survey is undertaken.
Following defined project commissioning and/or test procedures, all components are reviewed, documented and once technical parameters are met, the system is energized to achieve design parameters.
Having trained and qualified staff is critical in completing this work and Corrosion Service has specialized crews that are NACE trained and certified for completing commissioning reporting, compliance inspections, annual and  maintenance surveys.
All data obtained from site is reviewed and technical analysis is completed by specialist engineers and information is included in a detailed report for the clients to review and issue with confidence to regulators.
There are three basic mechanisms of AC interference that can cause damage to a pipeline and hazards to pipeline personnel and the public: inductive coupling, resistive or conductive coupling, and capacitive coupling.
Inductive coupling occurs under both normal operation and fault conditions of the collocating power line. The magnitude of the induced voltages depends on many factors including the power line phase current, on the length of parallelism, and on the distance between the pipeline and powerline.
The second type of type of electrical interference on pipelines, defined as resistive or conductive coupling, appears under powerline fault conditions. The fault current flowing through the grounding of the high voltage structure produces a potential rise in the neighbouring soil. Part of this current may be transferred to the pipe and would be added to the AC induced voltage.
The third mechanism of AC interference, defined as capacitive coupling, is only a concern during construction when the pipe is elevated on skids and not in contact with the ground.
History of Electromagnetism
Before 1820, electricity and magnetism were considered to be two separate forces. On April 21 of that year, Hans Christian Orsted, a Danish physicist and chemist, was preparing for a lecture and noticed a compass needle deflected from magnetic north when an electric current from a battery was turned on and off. This convinced him that a wire carrying an electric radiates magnetic fields from all sides. This was the first confirmation that electricity and magnetism were directly related and not separate forces.
Fast-forward many years later, one of our favourite cathodic protection fathers, Michael Faraday, had a breakthrough when he wrapped two insulated coils around an iron ring. He found that when a current passed through one coil another current was induced in the other coil. He unknowingly created a very basic transformer! This is now known as mutual induction. Upon further experimentation, Faraday established that a changing magnetic field produces an electric field.
Following the work of Faraday, in 1873, a Scottish scientist known as James Clerk Maxwell published his textbook A treatise on electricity and magnetism which contained twenty equations relating electric and magnetic fields. These equations were later reduced by Oliver Heaviside in 1881 down to four equations, known now as the famous Maxwell's equations. These equations form part of the foundation of electromagnetism.
The Corrosion Service Technical Library that Documents our Past and Defines our Future
Corrosion Service has and remains a leader in the corrosion control industry, supporting the various industries in North America and around the World, ensuring asset integrity by providing responsible engineering services. As part of our continued commitment we would like to welcome you to our electronic Library as the place to view our AC mitigation and stray current DC interference technical papers written and presented over the past 69+ years that have supported the corrosion industry advancement.
We converted a prime corner office into a Library at our Head Office and dedicated the room to Sorin Segall because of his commitment to Corrosion Service, the numerous papers presented, the engineering mentoring within Corrosion Service and to our industry.
We would be pleased for you to come and view this comprehensive library that includes various text books, relevant publications, all NACE Materials Performance magazines presented since first publication, technical bulletins and various other related corrosion related print material.
Since our founding in 1950, we have built an extensive portfolio of specialist products for the corrosion prevention industry.
Our materials supply team has access to a full-range of DC interference and AC mitigation materials both manufactured in-house and sourced from partner suppliers. Our dedicated supply chain team is based in Toronto alongside our material distribution hub, which is capable of delivering materials throughout the world on short notice.